Adrian D. Ferguson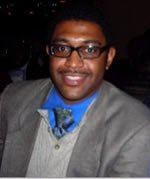 My name is Adrian Donnell Ferguson. I was a faithful member of YES Opportunities, Inc. while attending Morehouse College where I graduated with a B.A. in Political Science in May of 2006. After graduation I began working for the Department of Defense. I am currently working for a Marketing Firm in Falls Church, Virginia called Cause Marketing Solutions. It has the largest client base in the country. I work with fortune 500 businesses like Midas, Goodyear, Papa Johns just to name a few, to the local mom and pop establishments in the Northern Virginia area. I enjoy what I do because work with the diverse group of people, I have an opportunity to be creative, and I am providing a service to the community.
I am eternally thankful for YES Opportunities, Inc. I feel as though this organization has played a critical role in my transition from adolescents to adulthood. The encouragement that was bestowed upon me by YES Opportunities, Inc. opened my mind to new horizons and gave me the confidence to pursue my dreams.
As a "Morehouse Man" I am reminded of what Dr. Benjamin Elijah Mays, former President of Morehouse College use to say. Dr. Mays would fervently proclaim, "In all things that you do, do them so well that no man living, no man dead, no man yet to be born could ever do it better." YES Opportunities, Inc. instills this kind of ideology in their students. It is because of YES Opportunitiesm Inc. that I may one day be able to grow tall enough to wear my crown of excellence!
May The Lord keep you in His loving arms,
Adrian Donnell Ferguson